As Washington Stalls, Broome County Watches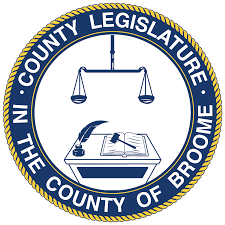 Ian Chung, Current Events Editor
October 15, 2021
On September 17th, as congressional Democrats remained at odds over several bills struggling to make their way through Congress, Broome County Executive Jason Garnar was holding a press conference to lay out his 2022 budget proposal. It included a cut to property taxes, an end to short-term borrowing, and an institution of new spending, including a children's mental health program and an infrastructure repair plan.
While lower taxes will certainly be welcomed by county residents, the long-term viability of the new budget is less clear. Last year, facing a $25 million deficit, the Broome Legislature was preparing to make significant spending cuts as COVID-19 swept through the region, decimating revenue and increasing costs. (https://www.wicz.com/story/42494033/broome-county-to-make-cuts-in-coming-weeks-facing-dollar25-million-budget-deficit) When the time to approve the budget came, it ended up increasing borrowing capacity instead. The county narrowly avoided a ballooning of debt after the Consolidated Appropriations Act was signed into law by President Trump, and it is unlikely that the extra revenue would have appeared on its own.
Higher spending seems like less of a problem this year, especially given the $37 million and $46 million windfall that Broome County and Binghamton, respectively, were allocated following the passage of the Biden administration's American Rescue Plan. (https://www.democratandchronicle.com/story/news/politics/albany/2021/05/11/american-rescue-plan-stimulus-money-new-york/5034196001/) However, future federal spending is in jeopardy. Democrats and Republicans alike are weaponizing the massive proposed reconciliation bill, the bipartisan infrastructure bill, and the debt ceiling for political advantage. A rapidly approaching debt default continues to loom over Congress as the bipartisan unity promised by Biden during his campaign begins to seem more and more unlikely to materialize. Concerns about inflation and skyrocketing federal debt remain prevalent as well.
Even the infrastructure plan, which was negotiated between both parties and received significant Republican support in the Senate, is now on its last legs as progressives threaten to abandon it if the reconciliation bill fails. The $27 billion that New York State would receive if the bill was passed may very likely never come. In that case, barring an economic miracle, what the future holds for Broome County residents beyond 2022 looks comparatively bleak.