Meet Our SRO Officer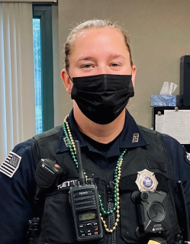 The Unknown Of Our SRO
By Marina Zakrajsek
Michelle Tuetken is the current school resource officer (SRO) at Vestal Senior High School. Although she is now a present member of Vestal, she is originally from Newark Valley and would come to Vestal when shopping out of her small town. She ended up in Vestal, a decision based on the fact that she was interested in being a part of our town, and the reputation of Vestal as both a town and a police department precedes itself.
Tuetken initially got into police work because she didn't want to be stuck in an office. With police work, she still has the type of freedom she was looking for while working as an SRO. She started her career in law enforcement at Tompkins Community College and remained an officer there for five years. She worked the road for four years, and later ended up taking part in four months of detective work, working alongside other, permanent detectives. She says it was an experience that was "A way to kinda get your feet wet."
The SRO position is considered a Special assignment within the Vestal police department, one that requires a written memo and talks of consideration before being appointed to the job. Tuetken was chosen for this position, and rightfully so. Being an officer and a female is something that comes with slightly different challenges. When it comes to her experience, she notes that "You need to have thick skin." She took on the position of SRO and has helped out the Vestal community, delivering food and Chromebooks to those who could not retrieve them themselves during Covid.
The SRO position comes with plenty of obligations. And with the addition of getting a new puppy, she definitely has plenty of new responsibilities. The officer now has two dogs Remi and Tucker who as she says, "are a handful," which she is more than equipped to handle. Tuetken is an important part of school safety and an appreciated officer in the field at VHS.