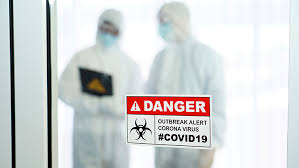 The coronavirus pandemic has resulted in a mandatory home quarantine, and many non-essential workers were told to stay home. However, healthcare professionals such as physicians and nurses still have to work. My mom is a surgeon, and although she still has to go to work, she comes home earlier than normal. This is because hospitals have canceled elective procedures, and also because many people who need medical attention are not going to the hospital. 
People who require medical help are not going to the hospital because they are scared of coronavirus. Many patients fear that by going to the hospital, they will be exposed to the virus. My mom said that "Many patients are scared of coronavirus, and are not going to the hospital even for serious conditions. The people who arrive at the ER are in severe pain and should have come to the hospital a long time ago."
The government acted too slowly. This includes the federal government and the state. President Trump downplayed coronavirus and claimed that it was not very dangerous, and Governor Cuomo did not act fast enough to prevent the spread. This resulted in many people in the city getting infected, which led to many other people in New York becoming afraid. The CDC also underestimated the situation. "The CDC did not recommend the general public wearing masks for a long time even though coronavirus is a respiratory illness that targets the lungs. The government supported the CDC recommendations, and so the people trusted the CDC." The CDC's advice of not using masks and the slow actions of the government led to more people becoming infected with the virus. 
The situation in NYC was widely publicized because of social media, and gruesome pictures of coronavirus patients were posted. Social media and the news spread and increased the fear of coronavirus, and there is also a high death toll that is associated with New York City. Social media spread the fear and resulted in people becoming so afraid of coronavirus that they are too scared to leave their homes even for medical conditions.
Although it is important to stay at home and practice self-quarantine, people who need medical attention need to go to the hospital. Healthcare professionals are still working hard so that they can treat anyone who needs help. If you need to go outside, make sure that you wear a mask and maintain your distance from other people.