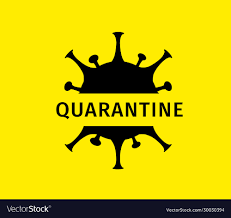 Life in quarantine is different for everyone. Some people appreciate the time to themselves while others are chafing under social distancing. Sharing our experiences can help us all cope with the mixed feelings we are having. These are my family's emotions and experiences throughout the past few weeks.
As the head of human resources at UHS, my mom has been working fervently to update COVID-19 policies. After schools unexpectedly closed, she had to organize an emergency drop-in daycare center for children. Additionally, many financial issues arose after all elective surgeries and procedures were cancelled and she and her team had to figure out how to continue to pay people. This has contributed to long, stressful days with the added stress of exposure.
My dad is a biology teacher at Broome Community College and with its shut down, he has been put in the situation that all teachers now face. Science is a hard subject to teach without hands-on activities and has had to redo almost his entire curriculum. He is recording classes although he finds it very frustrating. He cooks dinner every night and drops off food for my grandparents. Whenever he gets groceries, he wears a homemade cloth mask.
My older brother is a freshman in college and is disappointed that he is missing out on the college experience. However, he has been able to do much of the work that he would have actually done in school. Even though he misses his friends, he has been spending more time with my younger brother and me, as we all have free time.
My younger brother in 7th grade is shocked to discover that he actually misses school. He still does a lot of work daily and he normally joins my older brother and I with our everyday exercise.
I have been doing more reading than I normally have time for and I am enjoying the less stressful school schedule. Luckily for me, we're also fostering a litter of kittens right now which helps to keep me sane. They make good quarantine buddies.
After listening to and first-hand experiencing social distancing, I believe that the words of my younger brother – "I hate it, but I vibe with it" – summarize all of our feelings excellently. While we all resent being separated from our friends and society, the extra free time gives us an opportunity to do things that we want to do and connect more with our family.