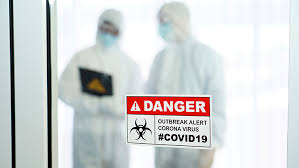 ¨Thank you to the essential workers.¨
You see it on the news, on social media, everywhere. Although the message is well-intentioned, not enough is being done to help the doctors and nurses on the front lines. And though it may seem that this issue is only prevalent in the New York City area, it has gotten closer to home than we would like.
Everyday after my dad (a physician) comes home from the hospital, our family takes extra precautions to prevent infection in the case that he is positive. We let him in through a door in the basement, from there he takes a shower downstairs and puts on a fresh surgical mask (these do not stop you from getting infected, but help to prevent the spread). From there, he eats dinner at a separate table from us, and makes sure to stay 6 feet apart from the rest of our family.
However, as I discovered during a brief interview, the situation at Wilson is being handled quite well. The hospital management stocked up on PPEs and ventilators were enough to bear an influx of COVID-19 patients. He noted that most of his colleagues as well as himself were very disappointed with the national response to the virus, especially President Trump's indifference to the scientists' warning.
The general consensus among medical professionals is that not enough is being done to protect the essential workers. ¨At this point,¨ he said, ¨we need to hope that the influx is not as bad as it was in NYC.¨