Review: A Danger to Herself and Others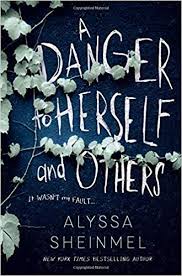 Alyssa Shienmel introduces readers to our narrator, Hannah, an intelligent teen who has been checked into a mental institution. After a freak accident, Hannah's friend Agnes, from a summer program she attended in California, falls out a second-story window. Agnes suffers terrible injuries, so naturally, Hannah would like to be by her friend's side in the hospital. After all, this was all an accident, right? But Hannah is stuck at the institution, hardly able to shower and being questioned by a doctor. Hannah gains a roommate, Lucy, in the midst of the chaos of institution life. Lucy is bulimic, but wants to spend her future dancing. Lucy and Hannah become quite close. Hannah is happy to have a friend like Agnes at the institution to talk to and to offer guidance to. As Hannah awaits her trial, she finds all the reasons she shouldn't be here. From New York City, Hannah is a brilliant student, who has her eye on college. How will this affect her future? When can she go home? She isn't crazy, right?
I loved this book. I thought the way life at the institution is written is very well done. I had trouble putting it down, because unlike some books, there was always something new and eventful happening to Hannah. With Hannah as the narrator, it's tricky to see what is actually happening. You want to trust her, but it turns into more of an unreliable narrator situation, simply because of the fact that she is checked into this institution. Lucy is described as Latinx, and Hannah is Jewish, so bonus points for diversity. Leaving us with more questions than answers, Shienmel knows what her readers are thinking at every turn in the book, and writes around it. I'd recommend A Danger to Herself and Others to anyone interested in novels about mental health and YA novels. I wasn't that fond of the ending, but in risk of the surprises, I won't give any further details than that. A fast-paced novel, I give this a 4.5 stars out of five.