A Principal Transition
Hang on for a minute...we're trying to find some more stories you might like.
The start of Spring Break this year also marked the last day of being principal for Dr. Albert Penna. When students returned, former vice-principal Clifford Kasson now held the reins to as the new high school principal.
I spoke to Dr. Penna just days before his position would become history, and he had a tremendous amount of great things to say about our school, teachers, students, and Mr. Kasson. Penna described his past two years as both an "honor and privilege." Coming to Vestal in 2015 as an interim principal made it clear of an intended short stay, although "short" turning into "more than short" was unquestionably welcomed by all. As Binghamton High School's principal for over 20 years, as well as his time as both a teacher, student, and coach, Penna has always been involved in the education field in some way. Coming to the "land of the Golden Bears," said Penna, "was quite the treat." He spoke of his appreciation for being accepted by both students and faculty, and described his time at Vestal as a great enrichment to his life.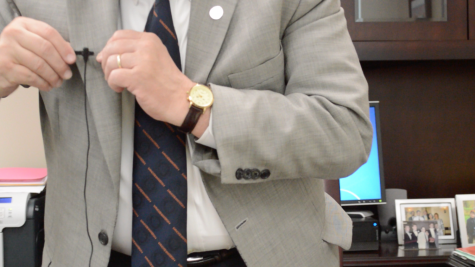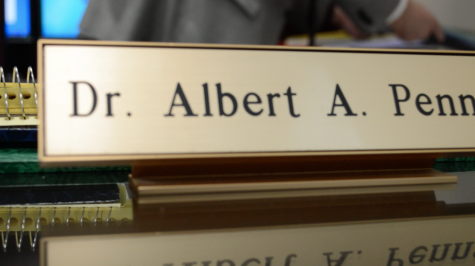 When it comes to accomplishments as principal, Dr. Penna is not one to lack. He played key roles in the formation of Vestal's own Future Business Leaders of America (FBLA) club — a group dedicated to promoting business principals among students; helped with the Building and Planning Team (BPT) — a group of parents, teachers, and students who meet to discuss strategic planning at the high school; and has worked with counselors and other staff to expand International Baccalaureate courses offered to students. It's also no secret the level of engagement Dr. Penna has individually had with both students and staff.
I asked Dr. Penna to tell me about a few of his favorite memories during his time at Vestal. He mentioned presiding at last year's graduating class commencement and being involved in school dances and proms. Picking up a framed paper clipping on his desk, he spoke of perhaps his most favorite memory: engaging in a small competition against Union-Endicott's High School principal in an accuracy contest during halftime and winning.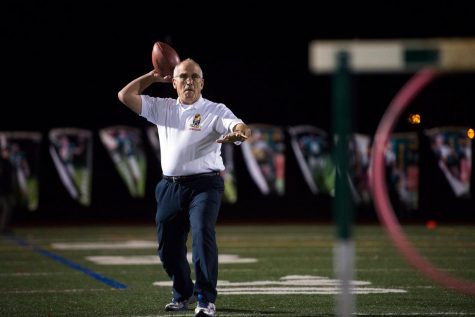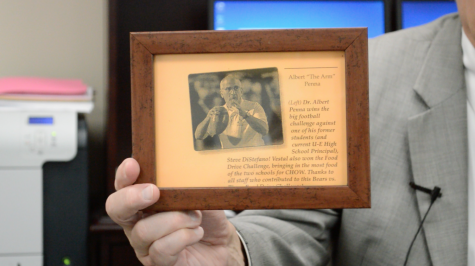 Image credit: Press & Sun Bulletin
"High school only lasts a short period of time," Dr. Penna said. "Make every day count." He advised students to "aim high, think big, [and] set good goals." He spoke of the excellence of our teachers and said he hoped students appreciated that and to remember that they only pass through high school once.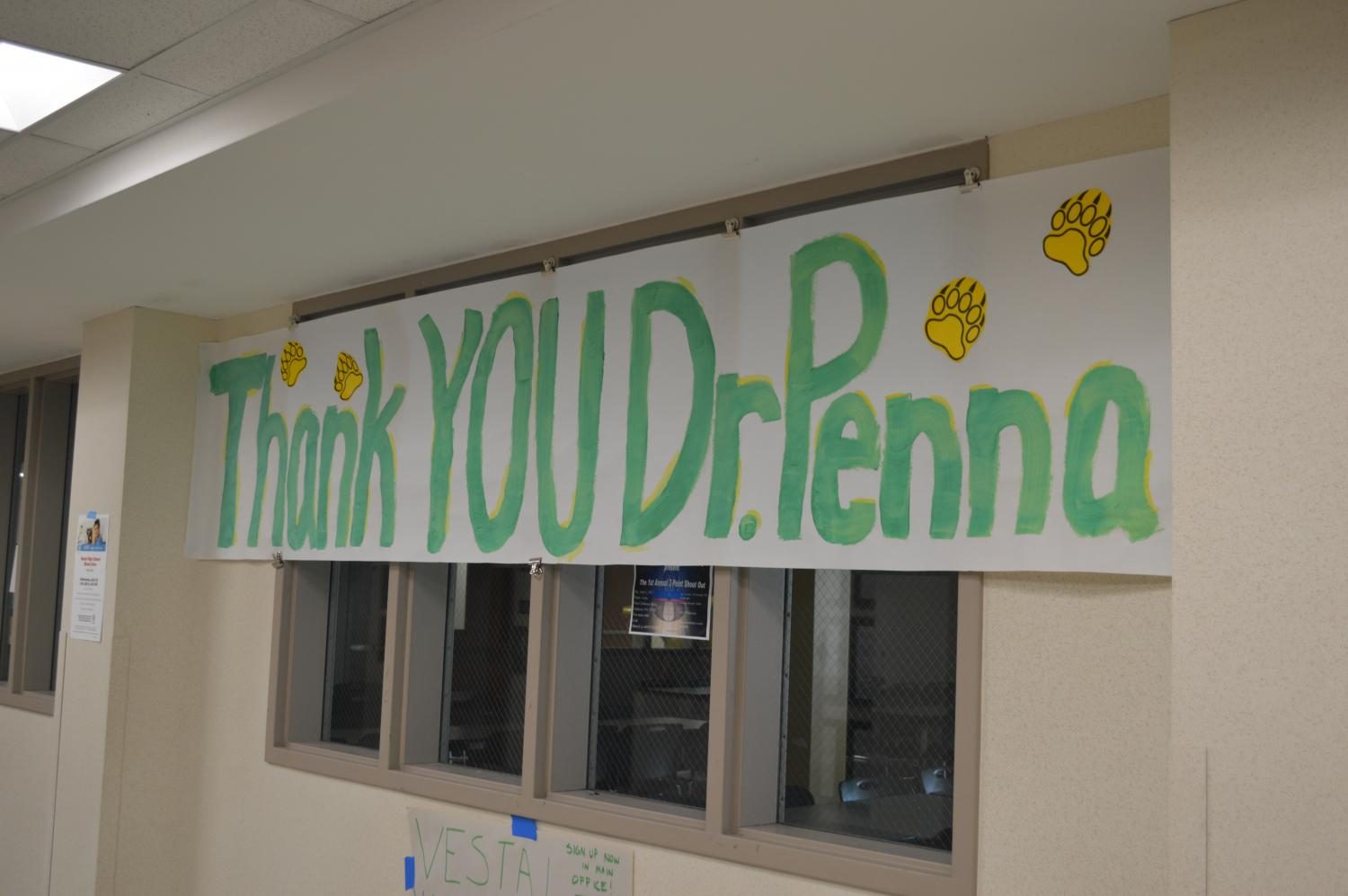 "I couldn't be happier for Mr. Kasson," he said. "[He] will do an excellent job as principal." As much as Penna enjoyed his time here at Vestal, leaving will be the equivalent of a much needed break. He will, however, be back for graduation this year; just not in a presiding position. A grandfather of six, Penna is also looking forward to spending more time with his grandchildren. An avid fly-fisher, Dr. Penna spoke of enjoying some away time on the Delaware River. He plans on staying active and in shape, slowly engaging in other activities. "Best wishes to everyone."
Mr. Clifford Kasson has been no stranger to Vestal High or its students. A part of the district since 2006, Mr. Kasson has held the title of assistant principal since August 2011. An interesting connection between Mr. Kasson and Dr. Penna goes back way further than just administration. In fact, Dr. Penna was both Mr. Kasson's high-school chemistry teacher and football coach. Penna describes watching his former student take his place as "thrilling" and is confident in his success. Mr. Kasson, reflecting on the past, remembered teacher Penna walking up and down rows of test-takers in a long white lab coat and leather shoes that caused the tile floor to squeal. Passionate. Inspiring. Energetic. Enthusiastic. Caring. Mr. Kasson had more than a few words to describe his former mentor and coach. But then, high school was over, and they wouldn't see each other for years.
I met with Mr. Kasson over Spring Break. He had been coming to the office every day that week in order to transition smoothly to his new position. When asked his first impressions of Dr. Penna in the administration world, he described him as knowledgable, passionate, focused, and always showing a different way to look at something. "That passionate drive is amazing, and that's something I'm going to miss. He loves it and he lives it."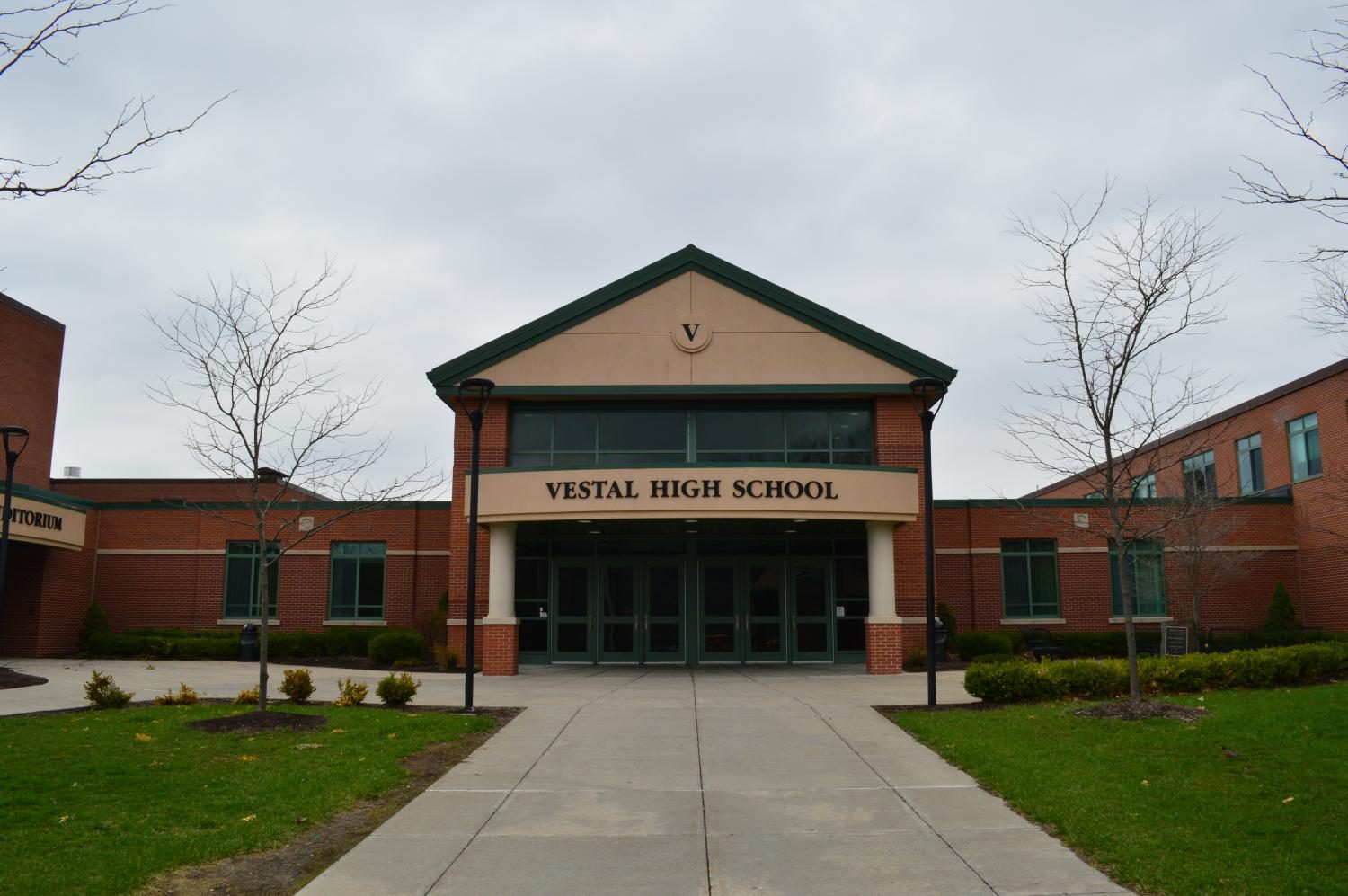 As assistant principal, Mr. Kasson has worked with teachers and was greatly involved in academics and curriculum, observing and promoting better instruction styles. It's about "what [teachers are] doing to ensure the students are learning the content," he said. He was also heavily involved in the chaotic Common Core Algebra transition, ensuring it happened as smoothly possible. His tasks as an AP also included working on the master schedule which handles what classes are offered per day, per period, per year. "Excellence is a moving target," he said, using one of Penna's own adages. "We all look very closely at how our students perform. We always want excellence."
As principal, Kasson still plans on continuing some of his tasks as an AP, focused on the highest level of performance. He wants to expand Vestal's IB program, hopefully adding IB Bio and Business in the near future. Preparing students for college and career is also high on his list, and he hopes to add more Fast Forward courses in partnership with SUNY Broome, potentially in the areas of anatomy and physiology, so students can earn college credit, earlier. "I'd love everyone to be so successful, making sure we have the program here to meet their needs." Mr. Kasson is entertaining the thought of renovating some old, unused classrooms in the high school's basement, and possibly moving pre-engineering classes there. Kasson also plans on continuing the Penna tradition of doing the announcements (as we've seen in the past few weeks). "I want to make sure that I'm visible and people know that I care." He's making it a goal to make students — us — feel more welcome. I, for one, can finally welcome his presence at the door in the morning once this long overdue article is published.
Thank you, Dr. Penna. Welcome, Mr. Kasson.